Where To Explore in Kingston Jamaica
Discover Jamaica's Capital City
Kingston is Jamaica's capital city, and one of the Caribbean's most enchanting destinations. There's something for everyone here; immerse yourself in the history and heritage of the Bob Marley Museum, experience the beauty of nature at Emancipation Park and Hope Gardens, cheer on Jamaica's football team at National Stadium or plan a relaxed day on the beach. Don't forget to visit Blue and John Crow Mountains National Park, a UNESCO World Heritage Site, while you're here as well. Need help deciding what to do and see? Just ask – our hotel staff will be happy to assist you.
Knutsford Court Hotel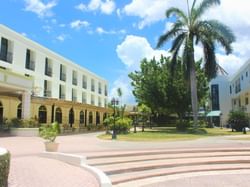 Located in the Half Way Tree area of the city, The Knutsford Court Hotel is unique in its ability to suit every type of traveler and budget, with accommodation and amenities for corporate visitors, groups, couples and families.